The Huskies Domain ~
Web Excellence Award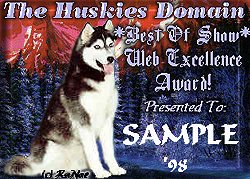 Many thanks to RaNae for making this lovely award.
The Rules
1. You will need to sign the guestbook so I know that you were here. If you don't sign the book...then I am assuming you did not read the rules and will bypass the application. If for some reason the guestbook was not working..please let me know in the form below.

2. Your site must be child and animal friendly (no animal abuse) and have no porn, nudity, etc. Sorry...no 'cyber petz' or simulated sites.

3. Your site must be pet-related. And it must have some content...other than just links.

That's all there is to it! Just make sure to sign the guestbook so I can come and pay you a visit!

We will visit your site as soon as possible. Awards will be given by e-mail.