It is with much sadness that our dear boy crossed over to the Rainbow Bridge on Tuesday, February 07, 2006.
We miss you SO much, Yukon.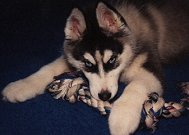 Yukon was born in November of 1992. We obtained him from a breeder who lived in our area and worked at a veterinarian clinic. When we went on our first visit...we both wanted a black and white husky. There was one little female who kept coming over and laying on my lap. The rest were just so wrapped up in playing with each other and did not pay us any attention. We knew we wanted another male so I would put the little girl down by the rest but she just kept coming back to me! I was sad when I left because I knew she would not be the one coming home with us as our minds had already been set on a male.
On our second visit....Yukon was the one we ended up picking because of his outgoing personality and for some reason...he just seemed to stick out from the rest! We went back, picked him up and brought him home and what an eventful night that was! The first moment Bon and Yukon were together...Yukon was already letting Bon know that he wasn't going to stand for anything. The started playing an hour later and were instantly friends from that moment on. Neither could be without the other!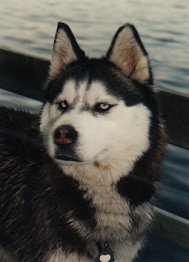 It was getting time for us to take Bon back in for his next level of obedience classes so we decided to sign Yukon too. He was only four months old at the time. What a mistake that was. I was in one class with Yukon and my husband was in another class with Bon and Yukon was just a mess without Bon. The whole world knew it too. We decided to pull Yukon for that period and ended up putting him in classes when he was older. He also was a star pupil!*S*
One of Yukon's favorite summer pastimes is swimming! While Bon does not go into water past his chest...Yukon could swim all day. He also loves to go fishing with my husband in the boat and waits patiently for the BIG one! He is so funny when there is a bite on the line....gets so excited!
Winter pastimes includes going out to our uncles farm and running for miles at a time. Being humans and not as energetic as huskies...we just sit in the Jeep and follow behind. They know the route and will follow it until we get to the stopping point...they take a break and then we continue the journey back. The farm is also where we do a lot of our skijoring! Once a week we go out there and if we cannot for some reason...all three dogs will let us know they are not happy with the disrupted schedule!
Yukon turned 14 in November of '05. He is starting to slow down a lot since the passing of Bon...and we have him on medication to help with the stiffness and pain in his hindend. He is also the "wooer" of the bunch and loves to talk your ear off. He has the best nose on him too. We have to hide his heartworm pills in hotdogs or cheese and he still knows they are in there and eats his way around the pill. Such a character! Yukon has a very special place in my heart...as Bon has alway been more my husbands dog...Yukon leans towards being the loving cuddly one!

If you would like to see more updated photos of Yukon ...check out our photo site at: http://public.fotki.com/cherishedcritters/personal_life/pets/canines>.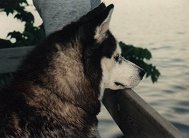 Sign My Guestbook
View My Guestbook